Objectives
Provide joyful lifelong learning attitude and skills to students
Expand perspectives, attitudes and understanding of multiculturalism as global citizens
Develop creativity for the future
In the future, children will grow up and live in a world that is beyond our imagination. They will need life and survival skills to get ready for that future. Tonkla school has adjusted the primary school curriculum to suit a fast changing world by focusing on learners to grow up naturally, feel happy to learn and develop skills so that they can apply in daily life. Also, they can use imagination and creativity to solve complex problems and design innovations that meet the needs of their lives and society they live in.
Holistic Approach
Fundamental subjects
Additional Subjects
Learner Development Activities
Conversation
Mathematics
Thai
Science
Coding
Art
History
Social Studies, Religious Education and Culture
Health and Physical
Home Economics
Writing
Phonics
Reading
Outdoor
Performance Art
Music
Library and Print media
Guidance
Boy and Girl Scout
Clubs
Community Service
Field trip
In primary education, the foundation of essential skills, knowledge and character development is very important. Tonkla school develops learners by organizing a learning process designed to contribute to lifelong learning skills through integrated subjects that are connected by daily life context or real-life situation as well as their connection to the world and others in various aspects. With these skills, Tonkla students will be able to solve problems systematically, become world citizens through the Think Nature learning process which encourages them to understand their connection to nature and ecosystem. This will help them become more resilient for the future where they have to face various challenges in nature and society.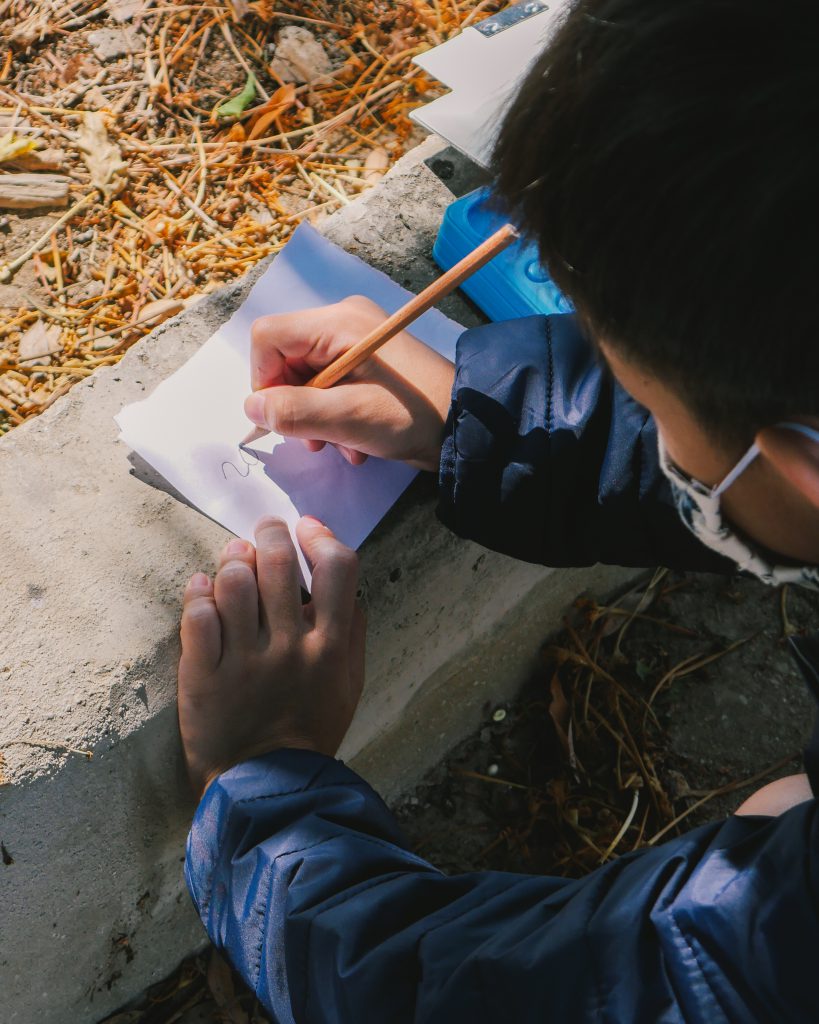 Therefore, Tonkla school places importance on the integration of subjects such as mathematics in daily life under the Open Approach principle which focuses on the process of finding answers systematically, building one's own basic ideas and communicating their opinions. In the process, learners will be able to use their systematic thinking, communication and teamwork skills. Hence, an academic foundation and life skills from real life experience is equally important so that students can apply what they know to any situations they face.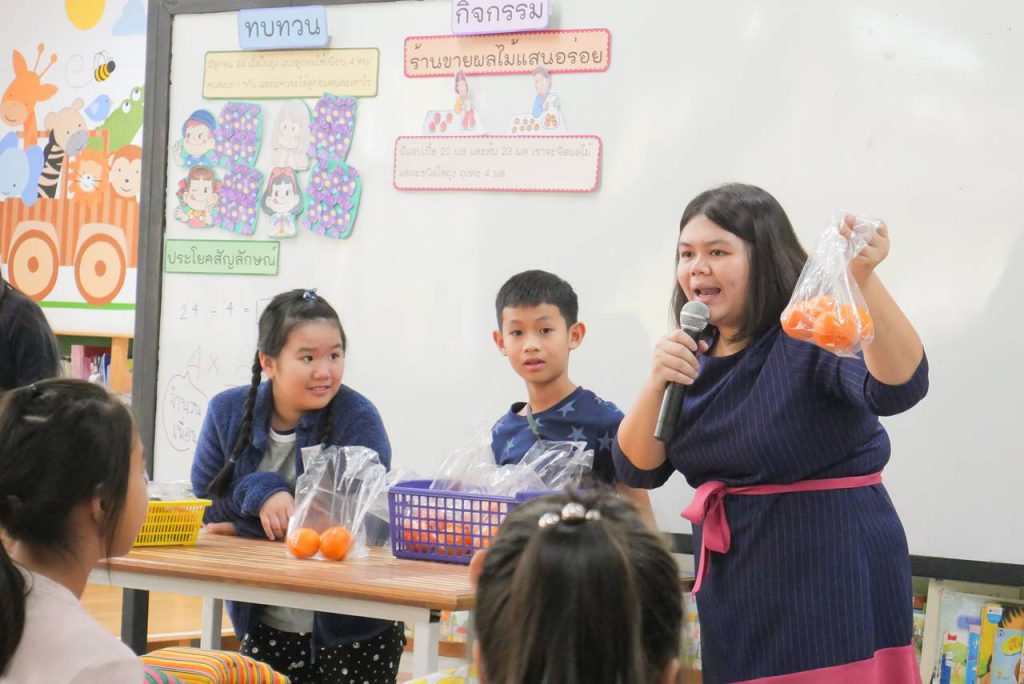 Learning Themes for Primary School
P1: The world around us
P2: How the world works
P:3 How we live in the world
P:4 Where we are in the past and present
P:5 Where we are in the present and future
P:6 How we see the world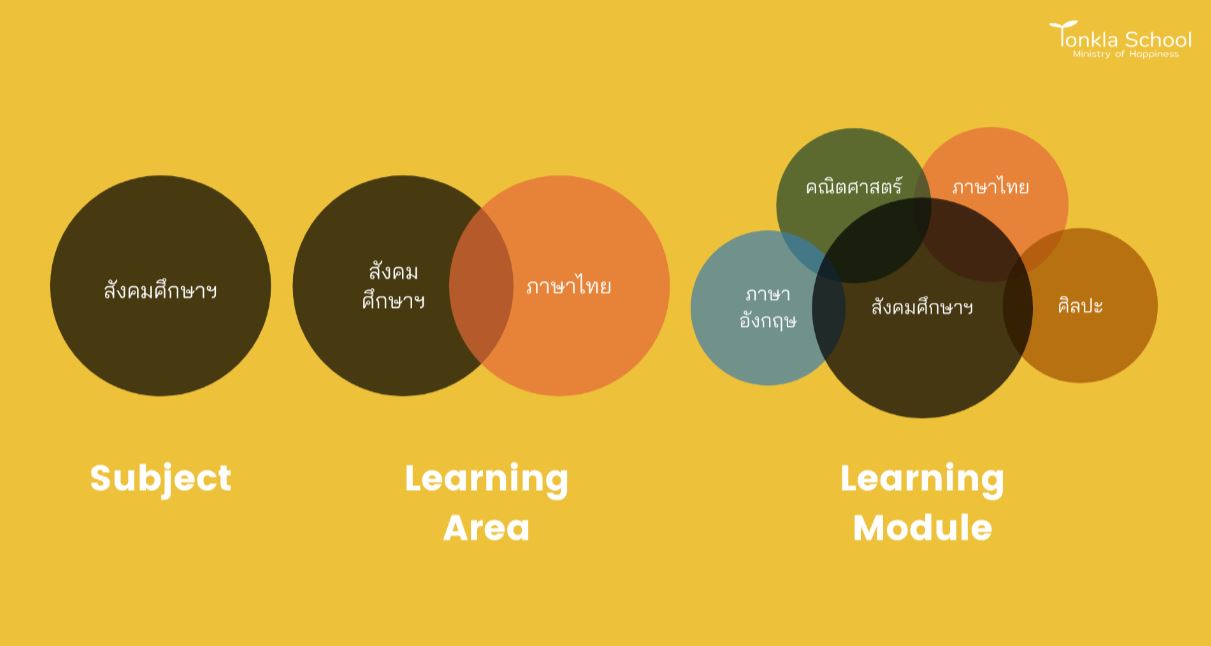 An Example of the Learning Module "Baan Chiang" Primary 4-6
An integrated learning design in the subjects of History, Mathematics, Thai, English and Arts for P4-6 students in order to understand ancient human life from the archeological evidence which is not only in textbooks or museums, but also from a simulation of archeologist's work site which students will get to practice being an archeologist and a teamplayer allocating responsibilities, planning for excavation, collecting and presenting evidence from the discoveries.
The excavations that gradually go deeper into each layer of soil and the important pieces of evidence that are slowly unearthed lead to the learning process about changes in each period which are caused by nature and human action. This is concluded by the discussion on its effects on the way we live in the present, including the forecast of events or impacts that can occur in the future.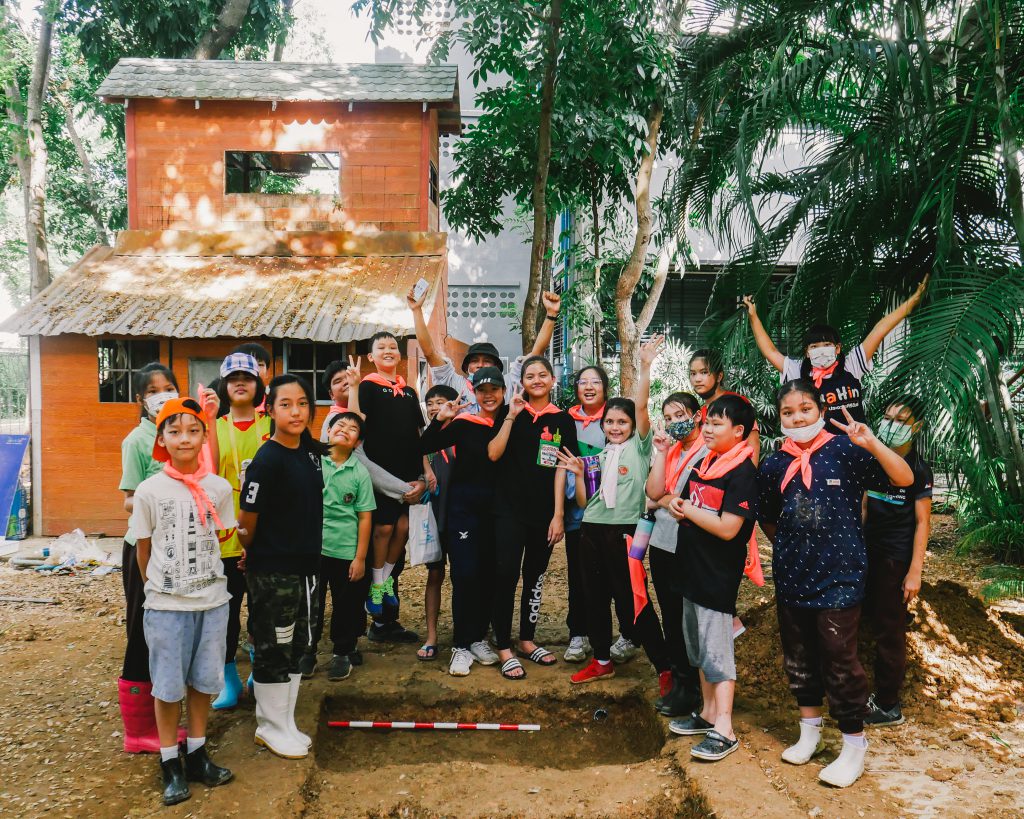 The 4C Curriculum for the Future
4C skills from 21st Century Skills that Tonkla School has adopted as the foundation of the learning experience process by focusing on basic skills.
C – Communication & Collaboration: Communication skills are the foundation of knowledge accessibility, expression of thoughts and emotions, skills for working and living with others.
C – Coding: systematic thinking, questioning and solving problem skills
C – Courage: self-development to be brave enough to respond to challenge problems and obstacles
C – Creativity: creative skills, using imagination to solve problems and create new things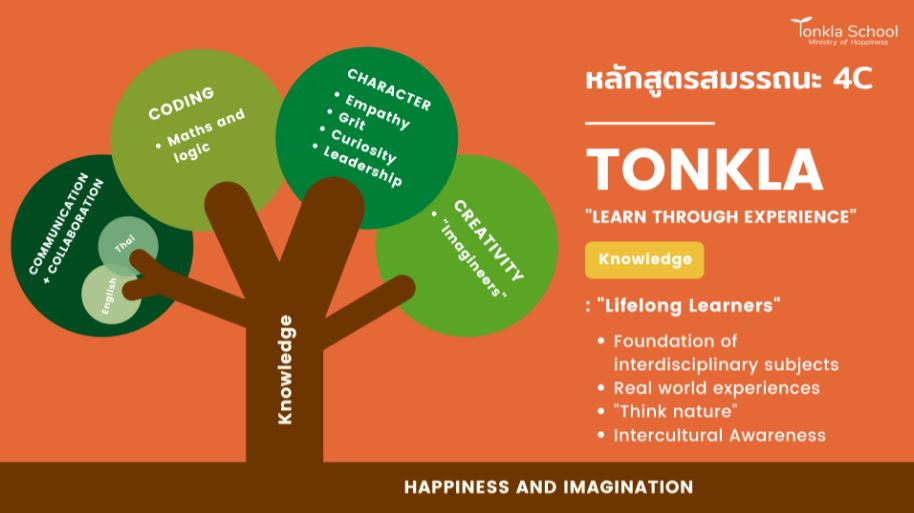 Digital worlds of creativity
Tonkla school believes that getting to know, training and understanding digital technology can support them to expand their knowledge and skills until they can make use and create something out of what they know. Therefore, we design learning units which are about core knowledge and systematic thinking skills for children by using the textbook from the Hello Ruby book series from Finland as our main learning material.
Starting from making children understand computational thinking through fun activities and missions such as creating games that emphasize on planning with sequence, including learning basics of devices, working systems, basic AI, basic programming for everyday life and internet world by focusing on safe internet usage. Children will experiment and practice on devices in the Digital Space that is fully equipped with learning tools and devices
Such as
code.org
Scratch
Microbit
Blockby
Lightbot
LEGO WeDo 2.0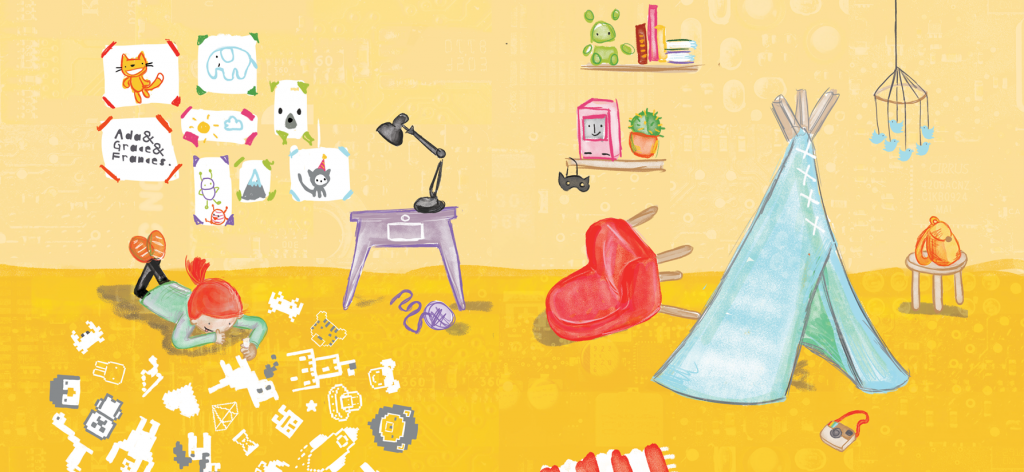 จิตวิทยาเชิงบวก
รากฐานของชีวิต
For Tonkla School, character development is crucial to the learner's inner growth. Positive Learning Curriculum from Finland which focuses on observing individual learners based on their strengths such as leadership, patience and empathy is seamlessly integrated into students' life at school. However, this requires cooperation from teachers, students and parents who will help students see their own characters and be able to improve as the next step. Positive Learning is an essential foundation used in communication within classroom and individual learner development.
The Positive Learning is a tool to help develop Tonkla students to have these following core characters:
Empathy
Grit
Curiosity
Leadership
Mindfulness
Learning to control oneself through the use of tibatan singing bowls from teachers help students practice breathing meditation, together with other activities such as journal writing, reading in Home Room period and Meditation through art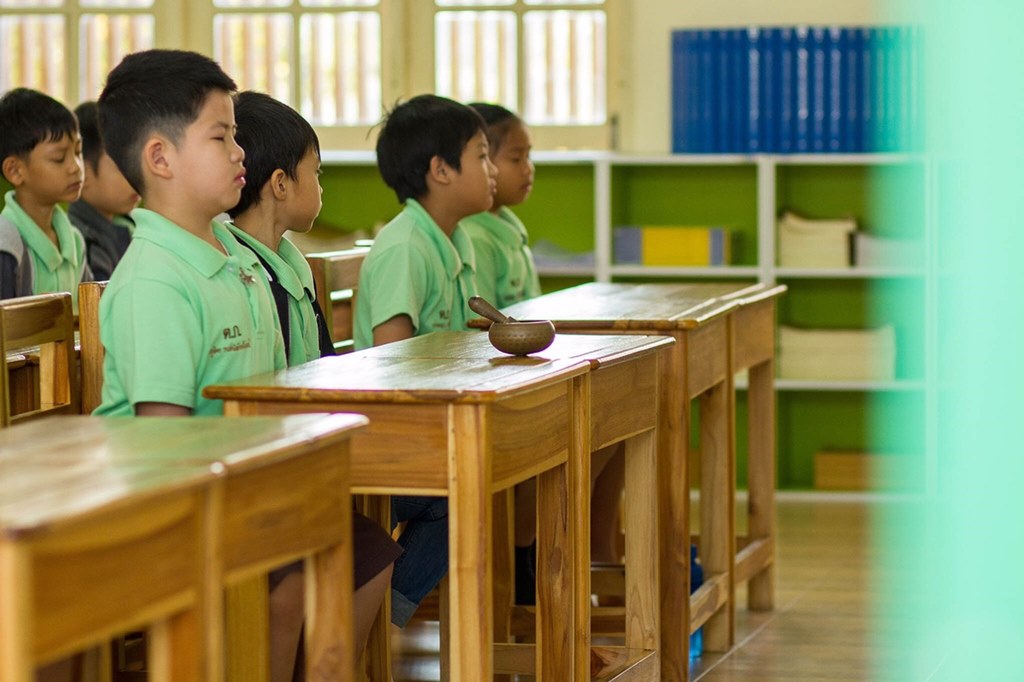 Activities for enhancing skills
Arts
Sports and Outdoor Activities

PE
Outdoor activities
Scout
Survival skills

Language
Others