Kindergarten is the age full of children's first times: they practice standing, falling, playing, communicating and solving problems. At Tonkla School, we believe that what children experience is meaningful to themselves and their learning process. Children in this age need tenderness, love and care as foundation for their bravery and curiosity to experiment, touch, think and learn while getting to know their body and practicing using their fine and gross muscles. What they learn during this age of life will shape the way they live, how they form their thinking system and their attitude towards learning when they grow up.
Therefore, Tonkla School provides kindergarten education to prepare children to develop properly in all aspects according to their age group. We also provide aesthetics, resilience, love, competencies, empathy, imagination added to their learning process as well as language skills in a safe, friendly and open-minded environment by using various methodologies to ensure children's happiness in their own way of learning.
Play & Learn
The development of each part of the body can be achieved through play. Think of when a child observes rock, soil and sand while they are using their hands and legs to climb on a man made hill. They are training their ocular muscles to coordinate with their limbs movements and fingers movements when touching things. They also learn to control finger and hand muscles which relates to brain's development. Children will develop different forms of play which not only enhances physical development but also stimulate cognitive and mental developments. Psychologist Rudolf said that playing is the process of developing the four aspects of children which are physical, mental, social and cognitive. Playing leads to the discovery of reasons, thoughts and imagination. It connects children with society and eventually leads to life in balance.
Sensory Integration (SI)
This is an activity designed for sensory development. Apart from the five senses; hearing, seeing, tasting, smelling, there are two other sensory systems; the sense of balance and movement. All nerve endings center on the soles of the feet sending signals to power brain function.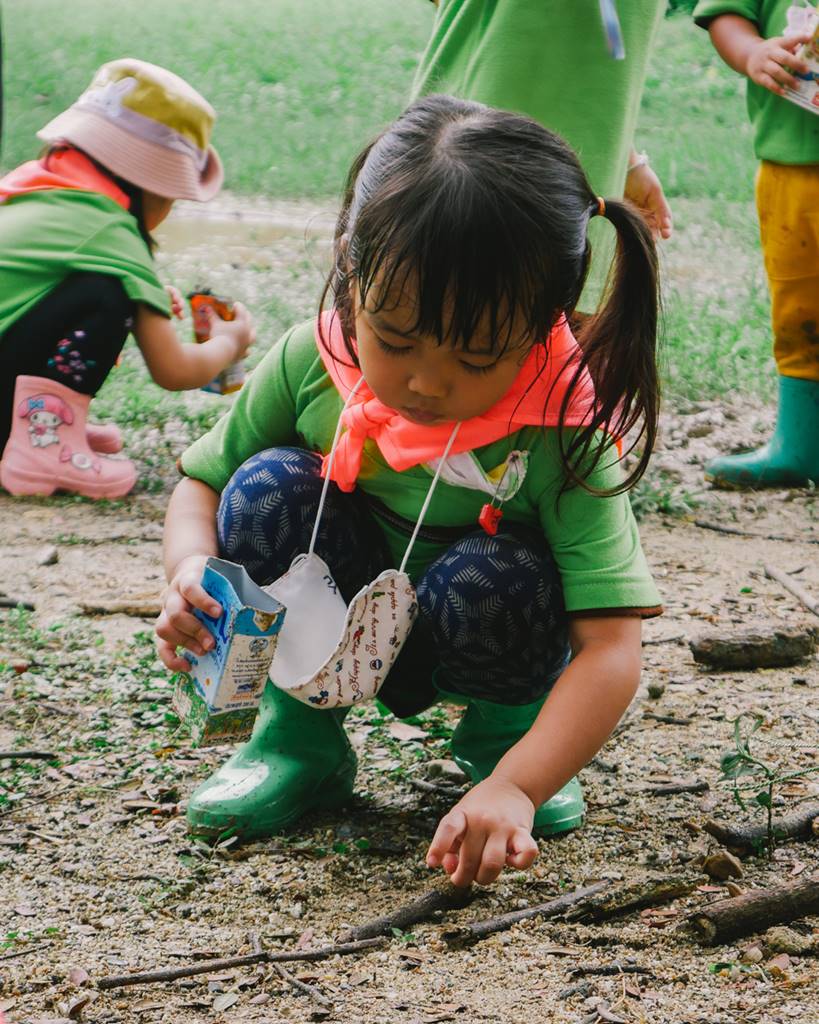 When children get the proper stimulation of the sensory system through various physical movements such as moving past an obstacle course, left and right brains will develop with balance. This results in better development of memory and learning. Tonkla designed learning activities both inside and outside of the classrooms under principles of children's sensory development. While playing and engaging in learning activities, children without knowing that they are developing sensory, social and emotional skills.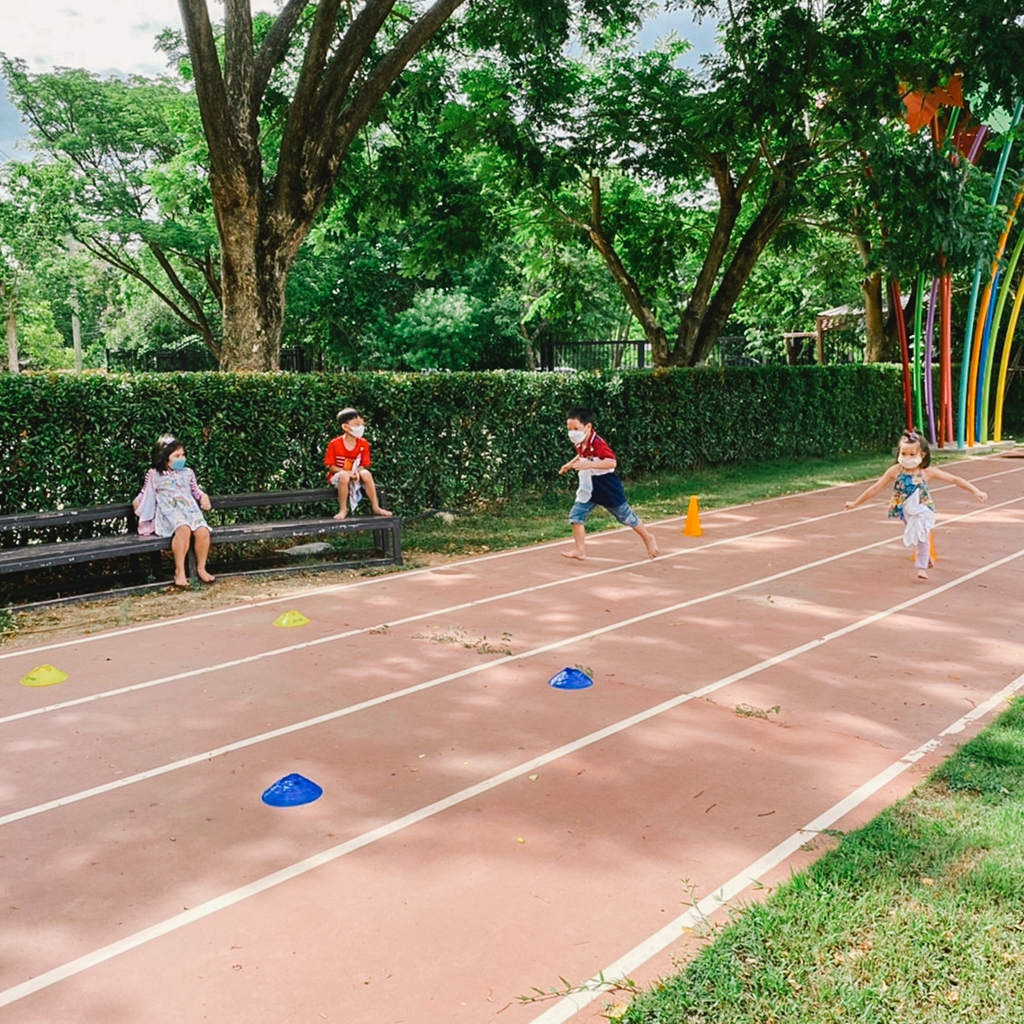 Language
Learning language at this age aims at developing communication and sense-making. Tonkla School then provides Imagination&Communication activity which is designed specifically for language learning according to age ranges in the form of activities such as playing, story telling, daily life story sharing and singing to encourage integrative language practice, mathematics and science.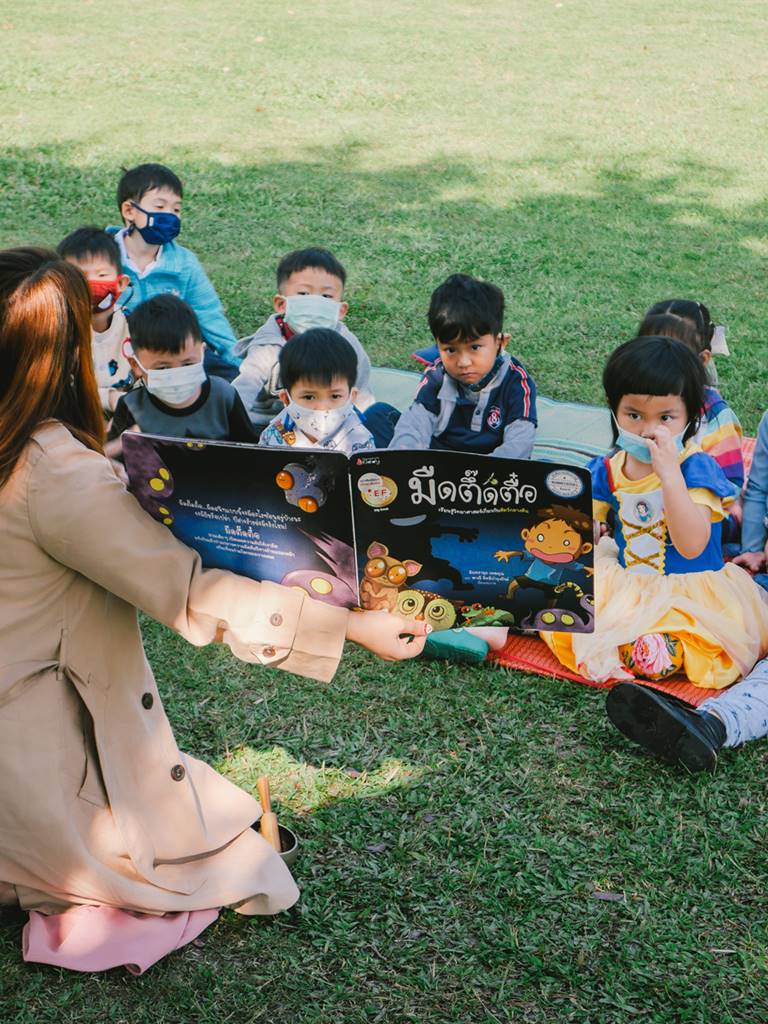 Fun with English
The school arranges English learning process for communication in daily life with the Whole Language Approach. Children will be prepared to be global citizens through exposure of English language and culture.
To create English language learning environment, students spend their time with  English-speaking teachers in various activities inside and outside the classroom so that they can practice listening to English pronunciation through Jolly Phonics. They can also practice making simple sentences by themselves through daily communication with their teachers who spend no less than 50 percent of the activity time with students. Afterwards, children will practice reading and later on writing.
We believe that when children are confident in their communication, they will always learn and practice. Learning language with consideration of children's first language and their age range will eventually make children use English confidently, creatively and accurately.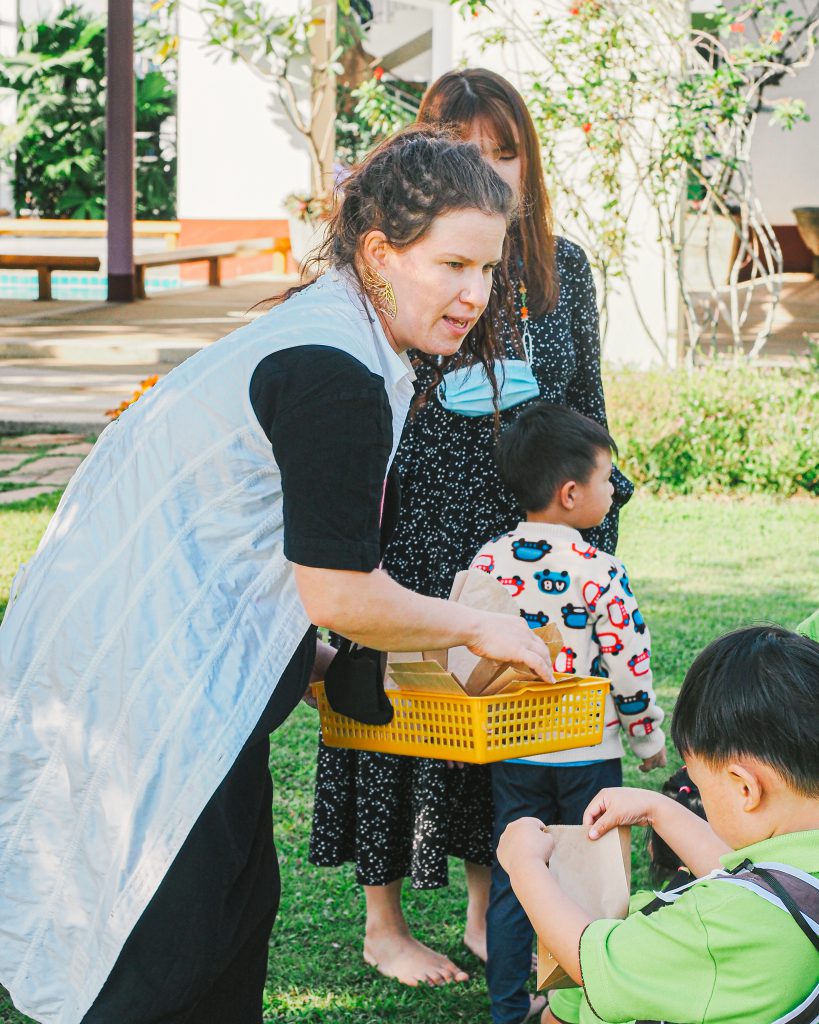 Project-Approach
Project Approach is a learning process to enhance self-learning skills with focuses on observation, curiosity and initiation which leads to systematic problem solving, the practice of scientific thinking process. It is also a learning process which responds to the nature as children learn by actually putting their hands on the activities, succeeding and/or failing. Regardless of the result, Tonkla believes that children will always learn with them being the center of their own learning process.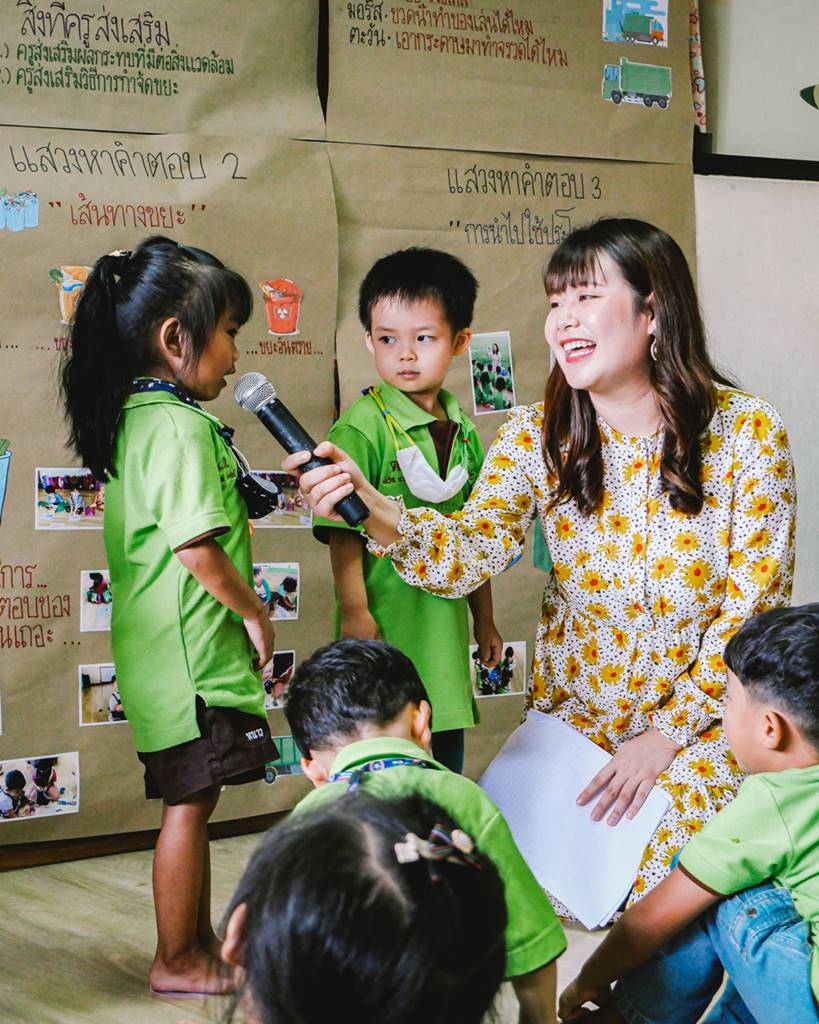 Mindfulness
The new generation of children grows up with technology and rapid change. Therefore, practicing mindfulness is another important skill and being mindful is a character that Tonkla always nurtures for our students.
In the kindergarten, children spend time with themselves in the Wonderful Morning activity in the morning. During the day, as a self-regulation practice, teachers ring the beautiful sound of Tibetan singing bowls before or after activities to help children focus on what is in front of them.
Slower paces of the day and carefully crafted moments designed for children to spend time making peace in their mind are also one of the joys that Tonkla helps train children so they get familiar in their early years.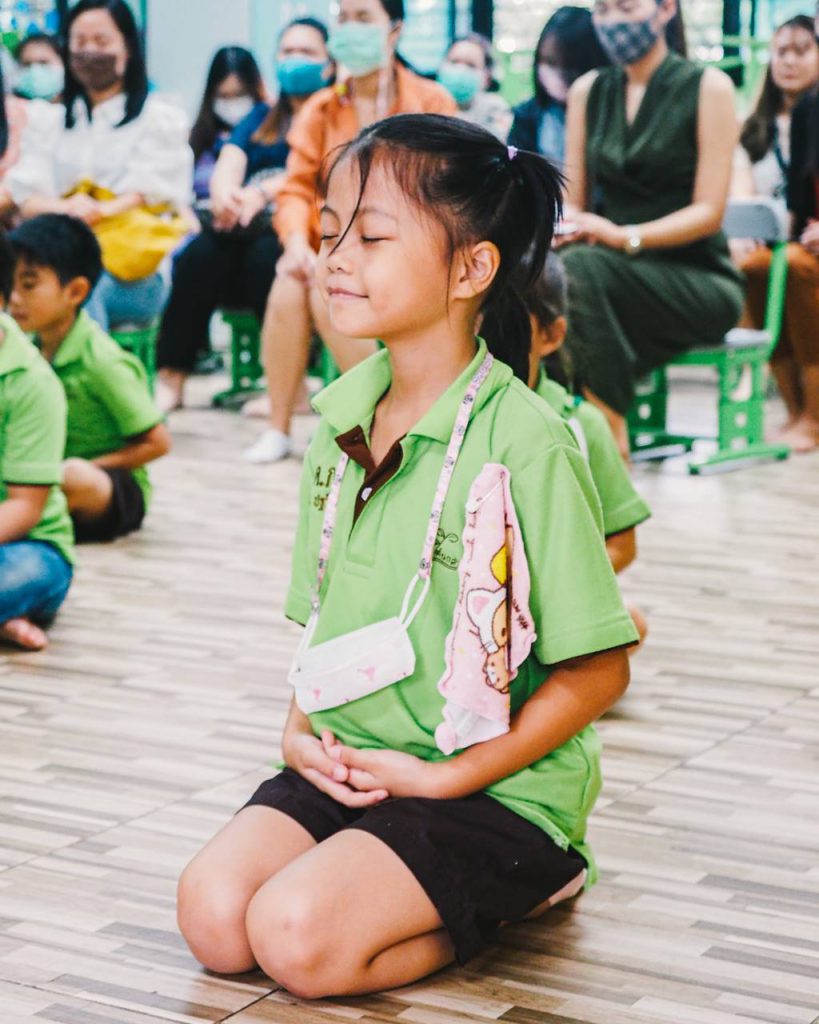 Personalized Support
Supporting learners individually is vital to children's growth. Tonkla School organizes child development assessment from the beginning and before going to primary school, so teachers, family and Tonkla's Well-Being Team can help design children's development appropriately according to the needs of each child. Additionally, we  have Tonkla's Institute of Sensory Integration (TISI) for additional sensory training and occupational therapists from Power Play for enhancement of physical, social and emotional skills according to the needs of children.
The regular discussion in the Rod-Nam-Pruan-Din activity (parent-teacher meeting) is the period that parents and teachers can discuss about the development and learning process of children apart from daily reports in which parents are informed about their children regularly.
ตัวอย่างกิจกรรมใน 1 วัน
08:00 – 08:30
Self-development activities such as  personal belongings preparation, free play and personal hygiene care.
08:30 – 09:00
Sensory Integration activities
09:00 – 09:30
Wonderful Morning: it is the activity to practice mindfulness, cultivate happiness, and inner peace as well as to share love in order to understand oneself and others. It also helps children to focus which will result in better learning performance.
09:30 – 10:30
Communication and Imagination activity and Fun with English
10:30 – 11:00
Happy Imagineers (Project Approach)
11:00 – 12:00
Lunch time
12:00 – 15:00
Nap Time
15:00 – 15:30
Wrap-up activity
15:30
Home time
Kindergarten Curriculum
ภาพรวมหลักสูตร
Tonkla's kindergarten curriculum was designed according to children's growing pace by emphasizing on the coexistence with nature and playing as a crucial learning process. We also focus on making children know how to take care of themselves first before gradually getting to know the bigger and more complicated world later.
| Learning theme | Pre kindergarten | Kindergarten  1-2 | Kindergarten  3 |
| --- | --- | --- | --- |
| Happy and Healthy Me | ✔ | ✔ | ✔ |
| Happy and Healthy Us | ✔ | ✔ | ✔ |
| World of Nature | | ✔ | ✔ |
| Creativity and Happy Imagineers | | ✔ | ✔ |
| World around us | | | ✔ |
Let's take a look at our thematic activities samples
Happy and Healthy Me
Happy and Healthy Us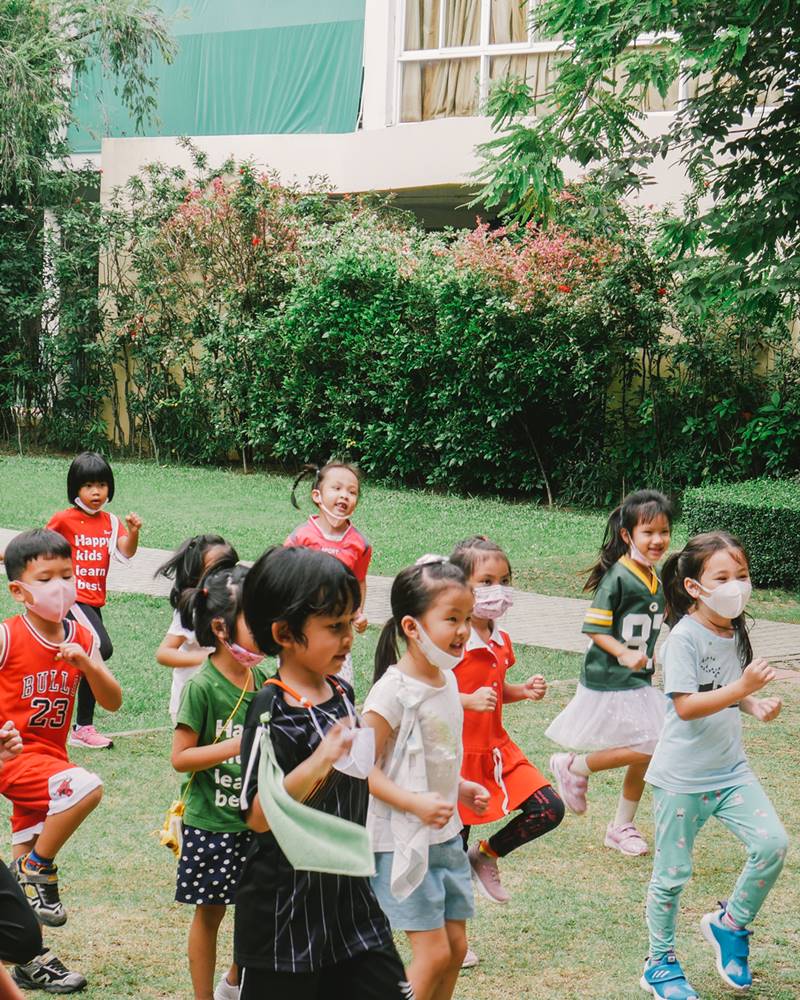 World of Nature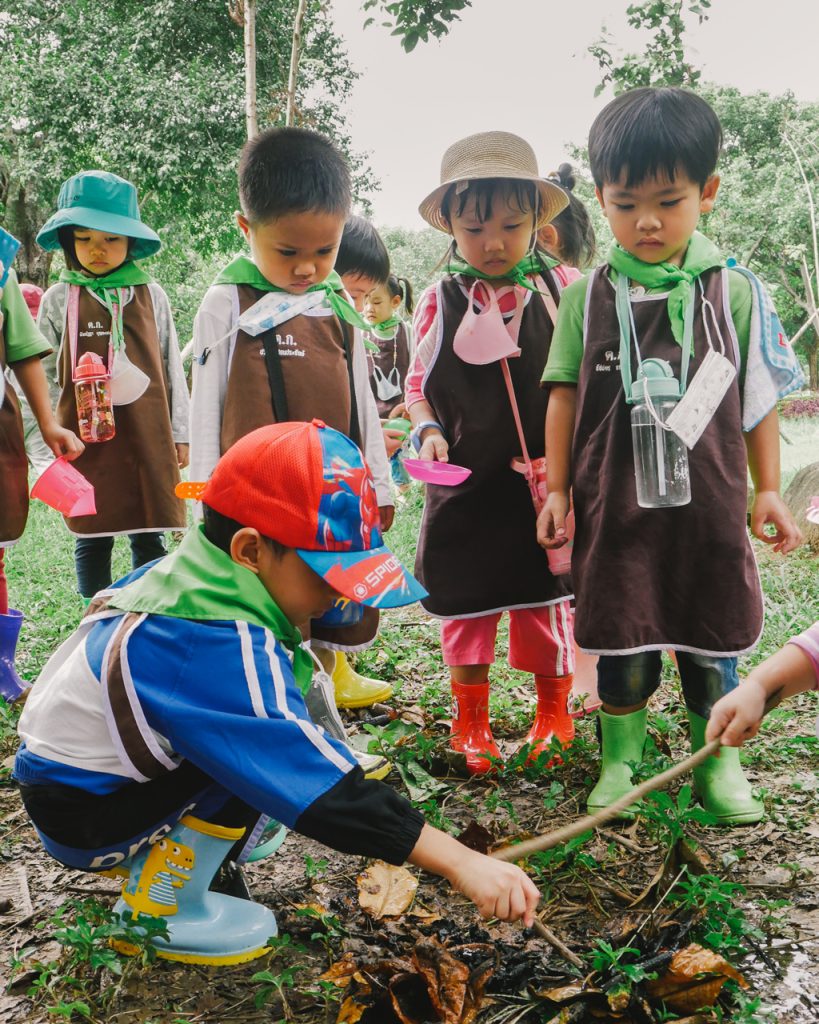 World around Us